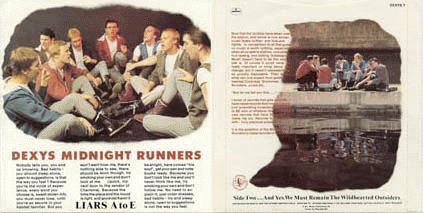 Liars A to E
Mercury, November 1981
7 inch single (DEXYS 7)

Side A:
Liars A to E

Side B:
And Yes We Remain the Wildhearted Outsiders

Nobody tells you, you end up knowing.
Bad habits - you should sleep alone,
open to suggestions, is that the way you feel?
Because you're the voice of experience,
every word you choose is,
sweet stolen info you must never lose,
until you're so secure in your habitat familiar.
But you won't want from me,
there's nothing else to see,
there should be soon though,
try smoking your own and don't look at me.
(quick, nip next door to the vendor of Charisma.)
Because the time the place and the mood is right,
and good old Kevin'll be alright,
here comes "his soul,"
get your pen and notebooks ready.
Because you don't look like me,
try smoking your own and don't follow me.
No need to explain it; just order dresses,
bad habits - try and sleep alone,
open to suggestions is not the way you feel.

Now that the lunatics have taken over the asylum, and worse is now worser, music fades further and how, and rightly. In comparison to all that goes on, music is worth nothing, especially when all on sale is shallow, conceited, foul tasting, non lasting, bubblegum. Music doesn't have to be this way; it just is. Of course it could never be really important or bring about any change, but it needn't necessarily be so proudly disposable. Then again, what can one expect from golden hearted Cockneys, Brummies, Scousers, Jocks etc,.

"But let me tell you this......"
I know that records give strength. I have heard records that inspire people (not scrambling musicians or groups) to BE who or whatever they choose. I own records that have the power to make me cry. Records to BE by or with - truly precious possessions.

It is the ambition of the Midnight Runners to make records of this value.